QUESTIONS & ANSWERS
about my wedding photography


Why do you love to shoot weddings?
Weddings combine all sorts of photography: landscape photography, portrait photography, family photography, street photography, nature photography and lifestyle photography. Who could not love that? :) Aside from that it's amazing to be there on such a special day, documenting all these important moments.
I really love my clients and in the months prior to the wedding we really get to know each other and trust each other. It's so good to see them say their vows after all these months. Everybody has a different wedding day and a different story. I love to document every wedding in a way that really reflects the personality of my brides and grooms.

How many wedding do you shoot per year?
About 10 is the perfect amount for me. Could be a bit more or a bit less.
Why only 10? Some photographers shoot a lot more weddings each year.
For me, documenting a wedding is a big deal. It's a day that will never come back and the only way to relive it is by looking back at photos usually. I don't take this lightly. I want to be there for my clients, I want them to have my full attention and I want to be fit to be able to capture their day the best way I possibly can. Around 10 weddings in high season is for me the perfect amount to be able and do all that.

How do you choose these weddings you will be capturing?
I am always looking for weddings that suit me, because when me and my clients share the same style and thoughts I know I can document it the best I can. When I receive a request for more information on my wedding packages I always want to know more about the couple and their weddingday as well. What venue did they choose? What kind of vibe do they prefer to have at their wedding? How many guests will be there? Do they have personal details? What about the dinner setup? Etcetera, etcetera. All these little details can give me a very good idea about whether or not we are a good match. After that we will meet at my home and talk all about ourselves, photography and weddings a LOT :). When we both feel the same connection, the couple books me and I am super happy to be their photographer. But don't be scared if your day doesn't have a lot of personal touches, it rarely happens that I have to let a couple down. My website gives a very good idea about what I love and if you can relate to the weddings I share here then I'm sure we are a match made in heaven :).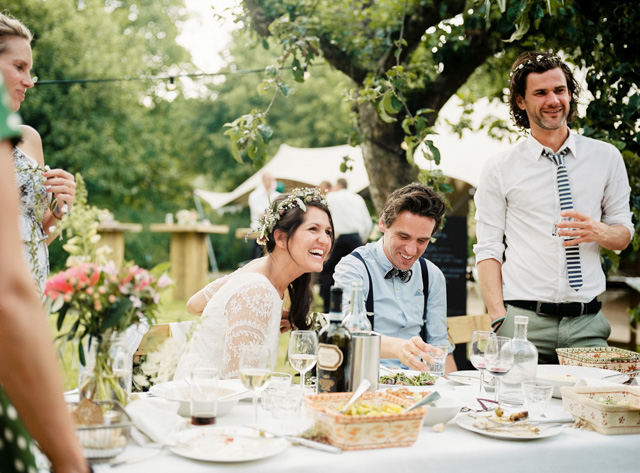 Could you describe in a few words what kind of wedding is really 'your thing'?
Personal, intimate, out of the box, easy going, flowers, bohemian, good food, friendly, warm, relaxed, nature, eye for detail, graphics and of course: with a lot of love!

You shoot film, what should couples keep in mind when booking you?
Yes, I shoot only film (the only reason I would use my digital camera during a wedding day is because it's too dark to shoot film, during a party for instance). For me film photography is the way to go, it suits my style perfectly: the grain, the colors, the contrast and the whole process of film photography. What couples should keep in mind is that I don't shoot 2000 photos at a wedding (why would I? what's the use of having 10 photos of your bouquet for instance?) so I will choose my moments very carefully and create the most beautiful shots during your day. Usually I shoot around 300 photos at a wedding and in between 250 and 300 will go to the client. This might not sound like a lot but it actually is! I can capture a wedding beautifully and let you relive that whole day, if you give me the freedom to do what I do best.

What is included in the price?
Booking a wedding for 6 hours or more includes:
– all rolls of film and development;
– a discount of 30% on your engagement shoot;
– a gorgeous mini-album;
– an online gallery;
– unlimited emails back and forth to answer all your questions;
– VAT.
More info about packages and investment can be found here.

Do you bring you own food or do you join us at dinner?
During the day I have my own bottle of water and some snacks to keep me going. But, like any other living being, I really enjoy a good meal to rise my energy level. That's why I would love to have a small meal as well.

Bewaren